STRIKE ORDER was created for operators of the most demanding Bowling centers.
It has been conceived and designed to create, with all its integrated services, a series of organizational advantages, aimed at increasing customer satisfaction and consequently revenue.
Equipped with the latest generation of RFID technology, it allows to manage through the totem and its touch screen, the Bar and kitchen order, assistance calls to the line, both static and interactive advertising, surveys, registration and customer data collection and entertainment with free games and much more.
The system remotely monitored by ARCADE SOLUTION, allows its customers to live their work in total and constant security.
FEATURES
Totem in anti-burglary material for public buildings
Touch screen Integrated Software with Hi-res 19 " monitor
Interface and interactive menus: simple, intuitive and impactful
Bar and kitchen ordering service
Assistance service tracking
Viewing screenshots and dynamic and interactive advertising
Customer Loyalty and customer data collection
Interactive surveys
Entertainment with free games with customizable advertising passes.
STRIKE ORDER CONTROL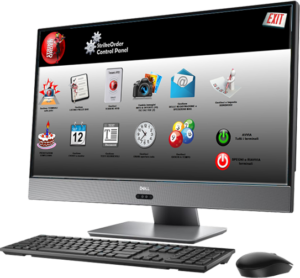 Desktop pc equipped with a touch screen on which our totem control software and the management of its commercial operations are installed, allows a constant monitoring of processes, developed with a simple and intuitive visual interface with icons, making it simple even the most complex operations, centralizing all the information you need, in one powerful, easy-to-use tool.
It does not require any special computer knowledge to be used thanks to the deep study of human / software interface that Arcade Solution has dedicated in its construction.
FEATURES
Remote switching on and off of the terminals
Creation and management of RFID cards
Creation and management list, category and product photo of the Bar and Kitchen
Creation, management info and timing of offers in static or interactive page
Creation and management, data collection and survey display
Creation, management and timing of events
Creation and management of birthdays calendar
Creation of flowing texts «always display»
Management of viewing opening hours
Management and control of time games