TICKET SOLUTION is the new «Ticket Eater» for redemption games totally developed by ARCADE SOLUTION.
TICKET SOLUTION embodies all the technology and reliability you have always dreamed of in a "Ticket Eater".
Thanks to RFID technology, the traditional concept of ticket counting is completely changed, implementing a series of services and a totally new concept of managing redemption games.
Thanks to the automated warehouse loading and unloading management system of the premium warehouse, the virtual shop and the customer loyalty RFID card.
TICKET SOLUTION is currently the best modular system for the redemption rooms available on the market.
TECHNICAL FEATURES
Totem in anti-burglar material intended for public buildings
Touch screen Integrated Software with 19″ Hi res monitor
Interface and interactive navigation menus simple, intuitive and impactful
Bar and Kitchen Ordering Service
Track assistance call service
Viewing dynamic and interactive screenshots and advertisements
Loyalty and customer data collection
Interactive survey
Entertainment with free games with customizable advertising passes.
TICKET SOLUTION CONTROL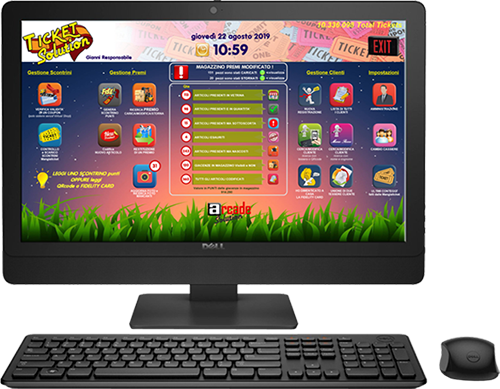 Desktop pc equipped with touch screen on which is installed our software for controlling totems «Eat ticket» for redemption games management activities, allows a constant monitoring of processes, developed with a simple and intuitive visual interface with icons, making it easy even the most complex operations, centralizing all the information you need, in one powerful, easy-to-use tool.
It does not require any special computer knowledge to be used thanks to the deep study of human / software interface that Arcade Solution has dedicated in its construction.
Equipped with RFID reading interfaces, QR CODE and BAR CODE, it represents the best ally in the management of redemption games rooms.
TECHNICAL FEATURES
Fully automated warehouse loading and unloading.
Management and creation of RFID cards and customer loyalty.
Barcode reader and QRCODE.
Automatic calculation of points based on the value of the prize.
Print and send weekly or monthly reports automatically.
Complete warehouse management with photos and fillable fields.
Complete management of customer data with dedicated "fast search" and "customer entry" keys.
Updating the warehouse load and importing data from the EXCEL sheet even remotely.
SHOP SOLUTION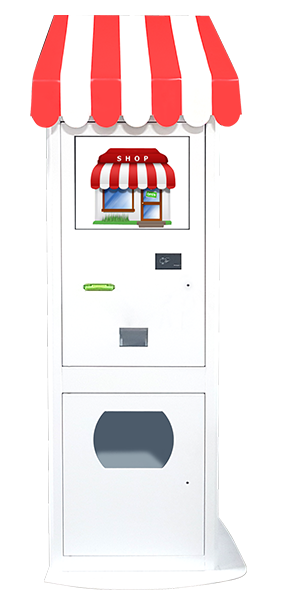 Is the virtual totem shop for prizes alongside the TICKET SOLUTION system.
SHOP SOLUTION thanks to the touch screen monitor allows the customer in total autonomy to manage his RFID fidelity card, to check his points, to choose and book prizes, automating in a few gestures the work that would be done by the operators and managers of the redemption rooms games.
In total and constant connection with TICKET SOLUTION CONTROL, it represents in its simplicity, the best solution to support our eating ticket.
Robustness, ease of use and stability are its key points, allowing the management and lifting of significant workloads, a prerogative to date, all at the expense of the desk operators.
TECHNICAL FEATURES
19″ touch screen monitor
Virtual shop completely customizable
RFID CARD reader and QRCODE reader